Back to opera
Voyage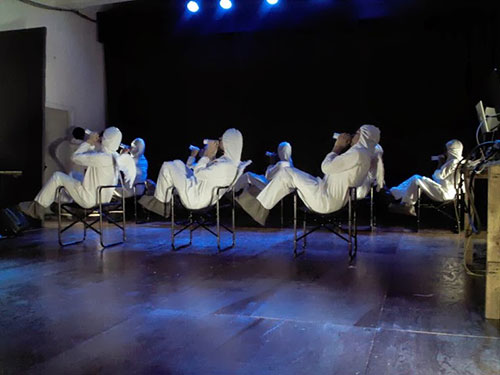 Musical vignettes - a staged collaboration between the Singing Actors Group from Seoul, Korea and the Cole Conservatory Laptop Ensemble from Long Beach, California.
Performances take place at Cantiere Oberdan, Spoleto, Wednesday July 10 at 10:30 pm, Thursday July 11 at 6 pm, Friday July 12 at 10:30 pm.
Traditional German Art song meets experimental laptop electronic music: staged vignettes of songs by Schubert, Schumann, Strauss, Brahms, Debussy connected with ambient textured soundscapes based on remixes, mash ups, and reconfigurations of the original songs.
The staged work explores the intricacies and interactions of human existence, enveloping the audience with moments that speak to the joy, wonderment, humor, fragility, isolation, loss, and community that we share.
Voyage is directed by Byungkoo Ahn, whose credits include recent productions at LaMaMa Theatre New York City of "Hamyul/Hamlet" - a Korean adaptation of Shakespeare's Hamlet - which received favorable reviews in the New York Times, and "Days and Nights" - contemporary 1 act operas based on Chekhov short stories, and musical direction of the laptop ensemble is by Martin Herman, whose recent work has been performed at LaMaMa Theatre New York City and Redcat theatre in Los Angeles.