Back to opera
Orlando
An opera in 1 act based on Virginia Woolf's Orlando
Music by Martin Herman
Libretto by William Houston
Staged by Byungkoo Ahn
Cast features Jacqueline Bobak as Orlando, Paul Berkolds as Male Orlando, Jonathan Mack as Castrato, Marc Lowenstein as the Master of Ceremonies/Casanova, Vicki Ray as George Sand, Laura Bohn as Ambiguity, Scott Graff as the Voyeur.
Chorus: Julie Adler, Jessica Tunick sopranos; Mandy Burke, Zanaida Stewart, mezzo-sopranos; Ryan Anton, Russell Smith, tenors, Stephen Anastasia, Scott Graff, baritones.
Orlando travels through time and gender seeking her other half and meeting such people as Casanova, a Castrato, George Sand, and Gore Vidal, to whom she is eventually betrothed. During her trip she is accompanied by three companions: Society, Certainty, and Ambiguity as well as her male alter-ego, coexisting in a parallel universe.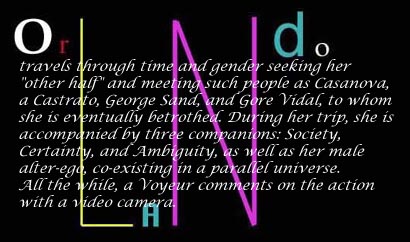 Music
♬ Orlando Soliloquy
---
Photos
---